NewSprout Support Articles
3 simple steps to move your Hosting and Domain to NewSprout
Moving your site and emails to a new host can be daunting, scary, or even in the too hard basket, but it's actually a really simple and quick process! Check it out…
1. Order your preferred web hosting plan
Either one of these in the Hosting dropdown menu on our site…
Cloud Hosting VPS. This is a Virtual Private Server. Your own space, your own virtual box/dedicated server. The correct solution for business websites.
or…
Web Hosting. This is a Shared Server. A great hosting solution. However it is hard to ignore the affordability of your own VPS which is why more and more business sites now opt for their own space.
In the image below, a VPS is like one of the 3 towers/servers, whereas with Shared Hosting your site is one of the coloured bars in that tower.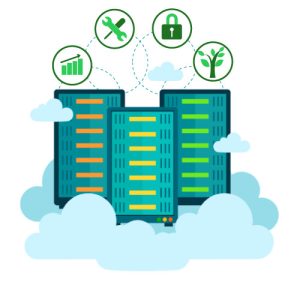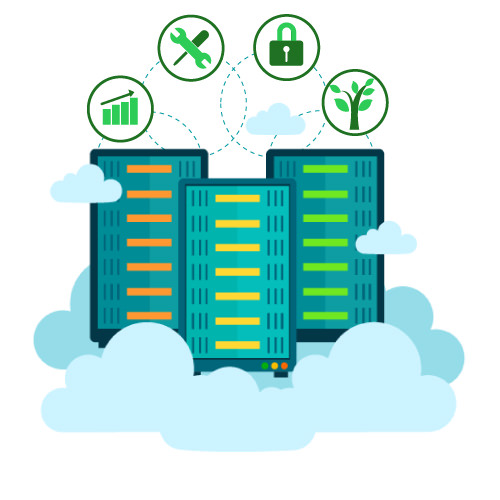 Once you submit your order, within a few minutes you will receive the "NewSprout Account Information – Web Hosting" email from us. This means your hosting space on the server is ready to be occupied – it's like receiving the keys to a rental property.
*Optional, recommended mini step – transfer your Domain Name to us…
During your hosting order organise to transfer your domain to us by selecting the "Transfer your domain from another registrar" button. You don't have to transfer the domain to us but if you do then it can make things a whole lot easier for you!


You will need the Domain Password (we call it the EPP code). Obtain this from your current domain host client area or ask them for it if you can't find it in there. Or if it is a .au domain you can simply recover it from 'auDA' here.
But please take note of this…
If you are in a pickle and need your site live with us quickly – within a day or two (perhaps there is an issue with your current hosting) then order the domain transfer once your site is live with us as the Nameservers cannot be updated during a transfer. Much like trying to change the postal address on a letter when it is in the posties satchel…you can't!
2. Nearly there…time to move in to your hosting space
Now read and follow the 'Account Information' email you will have received to upload your website and create your email accounts on the server via cPanel, or pass them on to your Web Designer if they handle this for you, or get in touch with us if you need our help. If it is better for you or in the too hard basket, we can migrate your site and emails…for FREE! Just ask us, we are more than happy to help.
3. Decide when to take it all live
OK, your site and email accounts are now copied on to one of our servers ready to go, now what?
> Are you ready to go live with your site and or emails now? Great! Change the domain Nameservers to ours. This points web and email traffic to our servers and your actual hosting. If your domain is with us by now, active in your client area, you can do this by clicking on your domain then ticking the  'Use default nameservers'radio button to change the Nameservers to ours…see below. Or ask us to update them for you.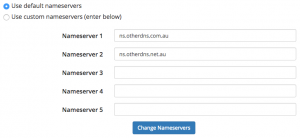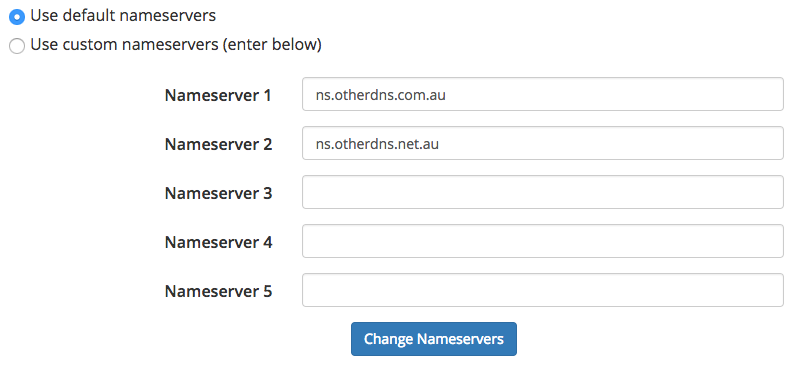 If your domain is still with the other provider them jump in to your client area with them and update the Nameservers to ours. They are listed in the 'Account Information' email, but here they are again:   ns.otherdns.com.au  &  ns.otherdns.net.au
> You are not ready to go live yet or the domain transfer is in progress? In this case do not update the domain Nameservers. You can't anyway if the domain is still transferring. Give us a buzz if you need to clarify when to go live.
Anything I should be extra careful about?
Yep, just make sure that you have accounted for your emails before you change the Nameservers.
By this we mean you have at least one device with the email accounts set up as a POP account – this way you have a copy of emails permanently on the device. Or your IMAP accounts have been archived/backed up on your main device. Ask us if you are not too sure!
See our FAQ's for some great hosting info.
Speak to our Australian Support team
8:30am - 5:30pm AEDT