Nice Things Our Customers Have Said
Real Reviews From Our Customers
Nothing matters more to us than making our customers happy and taking the hassle out of internet services.
We truly value our customers and encourage honest feedback.
This page compiles a number of real, unedited reviews by NewSprout customers that we have collected over all the years we have been in service.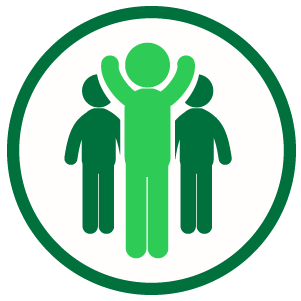 Harry, Grace & Charlie
Thank you very much Garry, Dave & team.

My children were delighted! to be able to return home, after an exhausting day of cleaning up their, flood damaged, schools, and share pictures & comments with friends.

Have a great day!
Lauren Allan
Hey guys!

I just wanted to say that I am so happy with my NBN connection, and all the support NewSprout have given during the entire process has been fantastic. Plus the link to the article you've put together about Netflix eating data
and bandwidth was super handy and I'm definitely going to adjust my settings!

I've never had such a positive experience with any utility provider let alone an ISP. Thank you so much, absolutely recommending to all my ***** (ISP name removed by NewSprout) hating friends!!!

Have a great Friday and an even better weekend!!
Mick Ikin
I have had many Awesome experiences with Gavin & the NewSprout crew.. Super helpful.. Always quick acting.. Excellent products.. Couldn't be happier.. I have been a happy customer for over 4 years.. I have recommended NewSprout many times and will happily continue to do so.. Stop looking… You've found the best..
Graeme Fountain
NewSprout, you really made my problems with my old service, simple vanish. Thank you again for making the transition so easy. And I really have to say your friendly support has been GREAT!
Don Munro
For the past several years I've used Newsprout for the services listed below & have nothing but praise for their quality products which are backed by their professional & excellent personalised service. I have no hesitation in recommending Newsprout: Domain Names - ADSL - Web Server
John - Onyxalpacas
Great service that is personal and unhurried ... thanks folks!
Masaaki Saito Kitchen Saito
New Sprout's Broadband plan and customer service are the best I have experienced from the industry. I am so pleased with the speed, competitive price and level of customer care but best of all, there are no contracts nor hidden charges.I highly recommend New Sprout to anyone.
James Ainslie
More than helpful to an aging Ludite -- very happy with the service.
Ben Bennink
To put it simply, just fantastic ADSL. Fast, simple broadband. With exceptional service. No offshore call centres, no BS just quick and courteous service if I need help. After many bad experiences with so called 'Big Name' providers. I'm very happy to stick with NewSprout. These guys rock they just make it all so easy.
Tanya Collins - spaveda.com.au
Newsprout Your Fresh Your Real Your Alive Support is amazing one of the best companys i love to work with..
Jodie, Jett Print
When I started my business I contacted New Sprout in regards to my domain name, web hosting & broadband services, needless to say, it was the best decision I could have made! Garry & Gavin are a pleasure to deal with, quick to respond & their services are second to none.

I switched from an existing broadband service provider & I was so scared to do so, due to previous problems with the other provider, but the process was so simple & smooth and I had no interruptions.
I have been telling anyone who will listen to me about New Sprout!
Marg House
NewSprout is completely hassle free. NO dramas, NO problems, Just what you want from your broadband provider.
Suze McLeod
Awesome service!! SO easy and no contracts or catches... would definitely recommend to anyone!
Nick Rojo
Always had great support from the Newsprout team, no question the best service I've had.
Nicci Meredith
I'm so happy I switched to NewSprout for both home and business as an internet provider. The service is great and its wonderful to know I'm supporting a local business. Keep up the good work.
Rob
I'm happy to recommend New sprout. Under trying circumstances , nothing to do with newsprout , they gave me the personal attention and help needed that unfortunately is thin on the ground these days in the commercial world.
Paul Hicks
They are great bunch helpful and know what they are talking about.
Sarah Rosborg
Newsprout service is 10/10 always fast to respond and so helpful. they go over and beyond what is required and they support their local community. I cannot recommend them enough.
Vincent Turner
Hosting is 2 things. How good is the product? and how good is the service? NewSprout wins on both. Well priced, fully featured product and when it came with a set of requirements that didn't quite fit the guys made it work. That's all you can really ask for, thanks NewSprout!
Dylan Curnow
I have been with newSprout for web hosting for about 3 years now and can't think of any way that I can fault the quality of the customer service I have received. Though I have had very few problems requiring support, whenever I have needed any assistance the response has been very fast and very thorough. If quality of and speed of customer service is important to you I couldn't recommend New Sprout highly enough.
Vik
Being a very picky and anal retired software developer who would quickly change providers if either the service or support was not at the standard I always set, I think the fact that I have been a loyal customer of Newsprout for ? years(since their early days) speaks for itself. Keep up the good work and more power to you, Gavin!!!
Mike Cunningham
Support has been nothing short of fantastic. Quick knowledgeable responses.
Lance Hunt
After extensive research, we decided to move a dedicated server to NewSprout a few months ago. We have been very happy with the patience and attention to detail they have exhibited in caring for our needs. Our hosted clients love the speed, and the price is good too!
Michael
I hate contracts, and thats where the NewSprout guys have it over the others … plug and play and with the best customer service at a personal level I've ever experienced. All that and more for HOW MUCH, how do you guys do it?

Luv u long time .. regards  :)
Bella
It's so lovely to be able to speak with the knowledgeable, helpful and friendly people at Newsprout. Fast and efficient service will get me every time and when it comes with a smile and graciousness, I am a fan forever! Thanks Newsprout – you set an example the rest of your industry would do well to follow.
Barney Jones
Good service, quick responses to queries, straight forward dialogue – no techie speak & patience always shown with customers. I recommend them!
Raymond Karam
We have been with Newsprout for a number of years now. The main reason besides the great products and services they offer is the people. The staff and owners are great people and to me they are like family, always there to help and support me and my business. We love you guys, thanks Gav and the crew at Newsprout.
Denise, WRAAC Reunited
I recently had to contact Newsprout about a problem. I just wanted to let you know how terrific the support staff there were yet again. Just fabulous service from your organisation. Truly client focused…..very rare. I really appreciate being associated with NewSprout.
Regards, Webmaster – Central and Coastal Region -Scouts QLD
The site administration is easy to use and the support offered is top class and very quick to respond to questions/issues raised.
Nike Sulway
Newsprout are the greatest. I've been with them for several years now, mostly because their service is reliable, but also because, when things go wrong (they rarely do) their support is prompt and effective. They are the GREATEST!
Adam Gibbs – S+P Lawyers, Ballina
I came to Newsprout with very little IT knowledge and a lot of work to do. They sorted everything for me and were always available to answer questions and solve issues. I would recommend Newsprout to anyone and on top of that their rates are very competitive.
Michele Fountain
There are plenty of hosting options out there, but I have not found one that combines great support, great product and great pricing the way Newsprout does.
Kerry Smith
NewSprout was initially recommended by my website re-developer who I have complete faith in. Since moving to NewSprout about 2 years ago, I have never experienced any service difficulties and have always found their service very prompt and professional.
Johannes Ambrose
As a Service Desk manager myself I really appreciate excellent service. I am very impressed with the technical competence and quick response from the NewSprout team.
Ida Owbridge
Extremely professional and helpful! Thank you.
John Ferns – Jafco
Being a long term customer of Newsprout we have enjoyed excellent service throughout. Support calls are answered without delay and pricing is very competitive. I can highly recommend Newsprout as an ISP.
Brendan Downey and Associates
Since I started my business in November 2012, I've had various reasons to contact NewSprout for support. This support has always been immediate and in a very gracious manner. The service delivery is very high and for this, I'm very grateful. I would not consider any organisation other than NewSprout for what it provides. Many thanks to Gavin and his crew.
Marcel Verhage
NewSprout – Great service and always happy to give advise about any improvements on how to get the best out of your web-pages. Thanks Gav.
Ian
I changed from a big capital city service provider to Newsprout and life managing my domain, mail etc, became immediately easier. Ease of contact, quick advice and replies, and a totally reliable service. A local business. Great thanks!
Ebrahim
The best Web hosting provider; fast, supportive, hassle free and no down time. Great customer service.
Georgie Kruse – FreeRange Permaculture
Newsprout are awesome. If you are looking for an ethical green company with extremely prompt personal service from someone not in a call centre, these guys are it. I could not recommend their support service enough. Newsprouts's totally professional, sincere and helpful staff set them apart from the rest of the providers out there.
Webby
Thanx Newsprout. My website now loads and performs much faster with you service and I never have any problems with my email accounts also. I'm one very happy customer. Thanx again Gav.
Jacqueline
I have always appreciated the fabulous and prompt support provided by the NewSprout team. They've provided a level of support and information that I am sure is over and above their usual services given I'm not particularly technically-savvy. They are always patient and helpful with my questions, queries and needs.
Lachlan Groves
When my business needed a web site I looked for a local regional company which I felt would be able to help me when the time came. On the occasions I have need support New Sprout have been what I hoped for. Being able to explain my situation to a real person who can make a decision right away has been fantastic. I am a small regional business and I try to support other regional businesses.
Karen Kirkham
Newsprout are cost effective, reliable and responsive. Their support is second to none. Whenever I have had a problem, which has been very infrequent, I have always been impressed by the speedy response and resolution of issues.I wouldn't hesitate to recommend them.
Paul King
Newsprout always delivers great support. The personal approach and ability to help resolve issues is wonderful.
Cheryl
A refreshing change!! Newsprout truly do offer a genuine quality service without any catches or hidden agendas. I would definitely recommend them.
Kiri Dicker
I opened a new business in Lennox Head this year and NewSprout had our ADSL connected within 48 hours. I have now decided to switch my home internet across as well!
Anthony Tully
I been using Newsprout services since 2010 and have found the service they provide to be first class. They take the time to get you started, always available to provide advice, no problem is too big or too small. They are more then just a service provider, they are a reliable business partner.
Carole from Crealo Design
This is by far the most reliable hosting, and absolute best customer support I have ever encountered. You guys rock!
Simon Kelly, Renegade Empire
Website Speed, secure servers and fantastic support are the reasons why I always choose NewSprout for my clients.
Rodrigo Vargas
Thank you Gary. Your customer service is outstanding.
Kylie Jakobsen, Retrorocket, Western Australia
I am very pleased by the practical, non-patronising support I receive from the team at NewSprout Hosting. As an online shop owner previously employed in online support I consider this the best investment I have made all year. Thank you!
Jonathan Sligh
I am so glad to have found NewSprout. Such a difference from previous host providers, fast email replies and when you call a real person answers with friendly assistance and advice, often above and beyond what they need to. I should point out that my calls to support have not been for server problems and the like but for a lack of know-how on my part. I have recommended NewSprout to several people and all have been wrapped with the service and price. Going on 14 months now and our site & email have never been down. Thanks and keep up the great service.
Alanna
I must say, your customer support is the best I have ever received. I can't wait to bring over all my websites to your hosting. Thanks again!
John Tennock
My past experience with hosting service providers is that they have remained very uninvolved and preferred to leave me to figure most of it out myself. I recently scrambled up the Joomla learning curve, then set about converting three static html sites. I was very concerned to find a hosting service that would provide the support I needed to avoid getting embroiled in a lot of tech-stress. I have been in computers since about 1965 and have never experienced helpful technical support of the standard provided by Gavin at NewSprout.
Don, Director – Ejlynia Pty Ltd
P.S – your service is great, I actually speak to a real person who answers my questions timely and in a detailed manner.
Chris
Thank you very much! Your help is appreciated. I am pleasantly surprised by the level of help and cooperation I receive from NewSprout in general and do spread the word.
Paris – Ripple Jewellery
Perfect customer service as usual! thanks again for your fantastic help – I'm telling everyone I know about newsprout, it is so so rare to get good prompt help when you need it! keep up the good work. thanks again – you rock!
Linn Linn Lee
Thanks heaps! Especially since it's Friday night. That's awesome support!
Bianca D – Clean and Gone Pty Ltd
I am so impressed with the level of customer service and technical assistance I have received so far from NewSprout. On the first day I bombarded the support area with many queries and questions – all were answered quickly and correctly. NewSprout are half the price of my old hosting provider and offer better customer service. Thanks!
Silvana Casuscelli
Thanks for all your help.. Can I say your promptness to this issue has been fantastic, I truly appreciate it.. Hope you have a great weekend.. Thanks once again.
Verity Twydale
Thanks so much for your help. You guys rock!
Nike
After trying other web hosting services, we finally discovered NewSprout. Gavin is The Man when it comes to online hosting. The service never crashes, and the support is excellent. In fact, it's the unfailingly helpful, prompt and accurate support that really marks NewSprout out. Whenever we have an issue or a query, no matter how monumental or insignificant, the NewSprout team are able to provide us with quick, efficient, human support. We recommend NewSprout to anyone wanting web hosting services, and look forward to a long and mutually-agreeable working relationship with them.
Natalie – BYRON EMPORIO
I just wanted to thank you again for your assistance today. I recognise that this is your job, and what you 'do'… but from the other end of the phone, it is a significant help. Clearly this is not my area of expertise, and today you walking me step by step through the process, seemed amazingly simple at the time. However, the result has allowed me to actually feel stress lifted off my shoulders…. and that is significant!!! So thank you again. May you have a beautiful weekend.
Pip Jones
I just wanted to say thanks – buying and setting up this domain and site was an outstanding experience. The shopping cart process is great, the welcome emails were prompt and exactly what I needed, and the website management tools are the best I've used. Setting up the web disk was amazing! I think the best thing is there's that little bit of help/knowledge offered at each stage to get you over the common pitfalls. FYI. The only one bit of information I didn't seem to be provided was the address of the database to configure my script's connection. I first tried the IP address in the PHPMyAdmin URL you provided but that didn't work, so I guessed at localhost and that worked. With that provided, this would have been a perfect solution. I uploaded my files and had a database-driven application up and running literally within 15 minutes of purchase of a new domain and hosting package – the kind of thing you book out an afternoon for. After developing websites for a decade I'm always surprised when 'things just work'! Brilliant.
Anthony :O) – STA Group
What would we do without you guys! (Ps. Providing it's alright with you we would like to put a section on the St. Andrews site about our hosting and recommend you to other groups in our local area as I know we've told you before but your service, standards and dedication is better than we've managed to find here in the UK!)
Gillian – The Buddy Factor
I just wanted to say a very big thank you to you for giving me such excellent customer support! I am really looking forward to doing business with you – I thought this was going to be a mission, but it has turned out to be simple after all. I guess when you hook up with the right people, things just happen.
Cheers, Terry – Tropical River Consulting
No problem Gavin. It is great to deal with a company who is efficient and timely for a change! Also, I just changed the username and everything works. I knew it would be something simple.
Mark Law :: digiflip :: 'digital solutions for sentient bipeds'
Having a good reliable web host is absolutely critical to my business since I run a web design & development company. So I'm greatly indebted to all at NewSprout and thank the heavens that I found them. The support is exceptional – they go out of their way to help, no matter how complex and time consuming the task, even to the extent of developing custom code. As someone who's used multiple hosts since 1997 I can attest that it costs a lot more in the end to use a 'cheap' host. So if you're reading this you can now relax in the knowledge that you finally found the host you where always looking for. Thanks NewSprout, keep up the good work.
Julienne Moore
This is just a quick note to say a big thank you to you and your team for your never ending support. When I contacted you regarding your hosting service, you provided a wealth of information. The company that I was with did not provide me with the type of service that you were offering and this alone made me question their commitment to me as their customer. The fact that you followed up your service with me the next day, proved that you were more than interested in obtaining my business. As a new small business starting out, it was important that I received as much information about running an online business as I could. I needed to organize an online shop and no one from the hosting company I was with, was able to offer me any assistance in this area. You not only provided me with the information I needed to do this, you guided me and helped me to set this up so I was ready to start selling. Gavin, I would just like to thank you enormously for your support and assistance. You have certainly added another dimension to the term "Customer Service".
Rachal Perry
Gavin at Newsprout Hosting was just wonderful. Whilst I didn't have a clue as to what needed to be done to move my website over to him, Gavin was patient, understanding and effortless in his work to move everything successfully. His promises did not go undelivered; the site works faster, everything was moved over without hiccup and the website is running as smoothly as it ever was. Gavin's communication and constant contact was a source of support, help and he kept me updated with everything. Thanks Gavin, I'm so glad to have made the move over to you.
Want To Provide Feedback?
We'd love to hear from you!
Email Us
Call Us
02 6687 6533 or 1 800  662  668
Get in touch with our expert support team.
8:30am to 5:30pm AEDT
NewSprout Office
64 Ballina Street
Lennox Head, NSW
2478
Send us your details and question and
we'll get back to you in less than 58 minutes.