Win 2 X Byron Bay Bluesfest Tickets + $1,000 Spending Money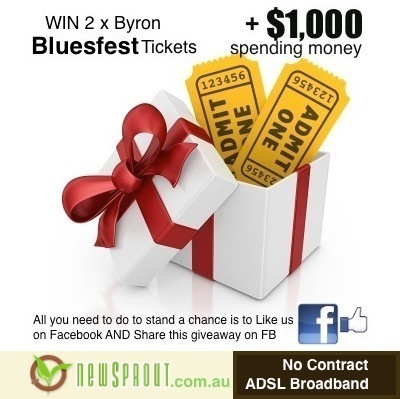 Win 2 x Byron Bay Bluesfest tickets (2 Adult 1-Day tickets) AND $1,000 spending money (you can use it how you choose).
You need to do 2 simple things to stand a chance.
"Like" our Facebook page and "Share" the Facebook post about the comp.
Good luck! Competition ends 14th Feb 2013. There will be 1 winner that wins both the Adult one-day tickets and the $1,000 cash (you need to be an Australian resident and over 18 to claim the full prize).
Cheap Month to Month ADSL2+
Our pricing's been slashed, our monthly data allowance has been increased.
The response to our no contract ADSL has been absolutely fantastic! We've had huge interest and we are now able to pass on even better plans.
As promised, our existing customers who have already signed up for our Ground Breaking ADSL are already enjoying this new pricing. We're not hiding it from them, we're not trying to lock them into any contracts or waiting for them to "request" it!
You may be thinking there's a catch or what's in it for NewSprout?
Our ADSL2+ offers the best speed the network allows you.
There are no contracts and no catches.
We genuinely offer Australia a better service and price alternative. We are a smaller (and much more personal) company than our competitors.
If, as a customer, you are unhappy with anything we offer, you actually CAN speak to our Managing Director!
We do not have big advertising budgets to splash all over the TV, so we are growing in a much more organic fashion. Our prices are highly competitive (we don't have layers of bureaucracy and middle management) and we are relying on word-of-mouth from satisfied customers!
If you want to see our pricing come down even further (and benefit from it directly – rather than shareholders), then get behind us, tell your family, tell your friends, tell Australia…tell anyone you think would benefit from great value NO-CONTRACT broadband!