NewSprout Support Articles
What POP email is. What IMAP email is.
A guide to what POP email is and what IMAP email is and which email account type you should choose to use.
Firstly before we get into it, either method can achieve a very similar outcome if you understand both methods well.
If you don't and you're here because you're looking for a quick recommendation, then go with POP.
If you want to understand more we've tried to explain it simply below (warning, it does get a little confusing)…
POP Email
This method will download email to your computer or device permanently and clear out the space on the server from your mailbox.
Want to use multiple devices?
No problem.
You will need to tick the option to "leave a copy on the server" and "remove from server after a certain number of weeks" so that other devices such as your phone can also access your email.
It is important to note that this setting "remove from server after a certain number of weeks" must ONLY be on ONE computer, preferably your main one!
You can then setup all your other computers or devices using IMAP.
IMAP Email
Keeps a copy of emails on the server permanently (i.e. NOT on your computer) by syncing with the mailbox on the server and your computer. All devices can then access the mail in the same way from this central mailbox location on our servers.
This two-way protocol allows the user to synchronise their inbox and folders to all their devices.
Our Recommendations
A) If you are not as organised as you want to be and you struggle to archive and delete emails regularly…then use POP email on your main computer or device and use IMAP on all other devices.
B) If you are very organised at archiving and deleting emails regularly…then IMAP can be considered if you understand it well and provided your mailbox is not massive.
General Email settings for mail hosted with NewSprout, including helpful screen shots are here.
Specific Email settings for your domain are in the "…Account Information – Web Hosting" email we sent you following your order. If you can't find it, just ask us and we can resend it.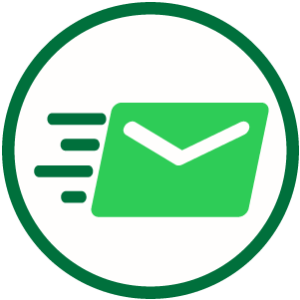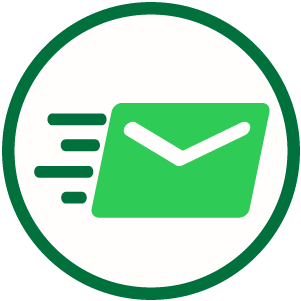 Still not sure? Let's break it down a little more…
When someone sends you an email, it's stored for a period of time on your website's server (the amount of time it is stored there is your choice!)
On our server
In your mailbox
In our secure data centre.
You can access this new email in one of two ways:
POP or IMAP
This is simply the method you choose to view your mail. This is what you choose to set up on your devices.
Here are the advantages and disadvantages of both methods, perhaps it will help you decide which method you choose to use:
POP Advantages
+ You don't need to worry about running out of online storage space. Since you're downloading your emails to your computer permanently (forever), you can keep as many emails as your computer can store. This could literally be millions if necessary.
POP Disadvantages
– Since your email is stored on your computer, you must be at that computer to manage your email. This can prevent you from managing email on-the-road or from your other mobile devices. But it doesn't have to be that way! There is a way around this! By setting up your email client (Outlook, MacMail, etc) to not delete email off the server for a certain period of time (set it to "leave a copy on the server" and "remove from server after a certain number of weeks") if you are away or have plans to travel, or you just want to check your email from multiple devices.
– You will need to implement an effective backup system for your computer including your email files, in case you need to retrieve lost or deleted emails. Think of an external hard drive, or Time Machine backup for your Mac. This is not really a disadvantage, it is a necessity which you should already be doing. But it's good to mention as it is very important.
How to decide if POP is best for you?
If you always access your email from one computer then POP is probably best for you. Just be sure you back up your computer regularly. And tick the option to"leave a copy on the server" and "remove from server after a certain number of weeks" so that other devices such as your phone can access mail if you every need to.
Remember…by default, POP will download and then delete all email in your mail server's Mailbox. Gone forever, but kept on your computer forever too.
However all email clients will give you the option of keeping email on the server, if you need to let other devices also download it. As a rule of thumb, never keep the mail on the server for longer than 6 months.
 IMAP Advantages
+ Since the emails are stored on the mail server, you can access and manage your email and email folders from multiple computers or mobile devices.
+ Email is automatically backed up on the mail server. However you should still be backing up your computer too, as our backups are for complete disasters only.
IMAP Disadvantages
– As your mailboxes do not have unlimited online storage space, you will need to clear out your emails periodically to avoid exceeding your storage capacity. If you want to SAVE the emails, you can simply "move" the emails from your Inbox that is on the Server into your "Personal" folders on your "local" computer.
– If you have a very big mailbox (from keeping and storing lots of mail) then reconsider using IMAP as it is not as reliable as POP when the mailbox gets very big.
How to decide if IMAP is best for you?
If you are still a little unsure, then go with POP.
IMAP is good if you need to access your email and email folders from multiple computers and/or mobile devices. Your email and folders will be centrally located on the mail server, so you can access them directly from any device.
Regardless of whether you choose POP or IMAP, you can continue to use your favourite email app—such as Outlook, MacMail, Thunderbird, Windows Mail, etc.
POP is the better option in most scenarios.
POP makes it easy for users to manage the size of their inboxes on the server (thus allowing the user to continue to receive email uninterrupted), because email clients can be set to automatically delete email off the server after a set number of days, therefore never filling up. This usually is the best scenario, because you don't have to remember to move email manually from the Inbox into a folder on your computer.
IMAP is really only best for people that have a very specific reason for using it.
Speak to our Australian Support team
8:30am - 5:30pm AEDT