Stacked With Free Gigs For Life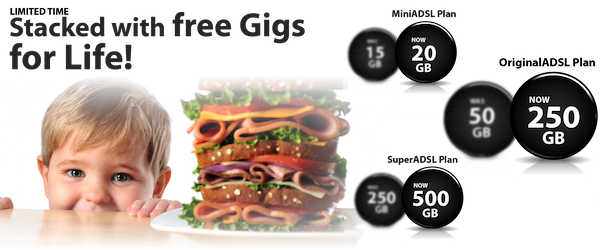 We have BOOSTED the data allowance on ALL of our ADSL Broadband plans for life! Stacks of Gigs are now available on these cracking plans. So take advantage of this offer now – you'll have the data allowance for life!
Hey, by the way we're signing up NBN clients already. We'll update our website with the NBN plans very soon. So check them out when you get a chance…the NBN may not be that far away from your area.
DATA Boosted for EVERYONE!!
Our new offer won't last long….but if you sign up in time, it will last forever…BOOSTED data for life!
Don't worry…if you're an existing NewSprout ADSL client on any of our plans, then guess what…your plan has already been bumped up! But don't let that stop you from spreading the word, your friends and colleagues can benefit too.
We will always pass on what we can to you.
We're offering as much free data as we can for as long as we can, but when it's gone it's gone. It could last a few days or possibly a week, we don't know.
What we do know is:
If you sign up now you get it for life
Why are we doing this?
… is there a catch?
No catch! It's pretty simple…a few really cool things have happened to NewSprout since launching our ADSL Broadband nearly a year ago…
We are still sprouting, sprouting, sprouting!
We have new Infrastructure
New Staff & resources are on board
A cool new office in the heart of Lennox Head
True to our mantra, we'll pass on savings and not lock you in with any of our plans!
There are absolutely NO CATCHES and you are supported by OUR team.
Need to upgrade your Modem?
… our Modems are NBN ready
We've taken the hassle away choosing and configuring your new modem, now it's really easy to upgrade your modem/router.
Choose a modem as an option during your broadband order and we'll get it ready and delivered to your door so all that's left to do is simply plug it in!
If you're unsure about your existing modem or want us to check it out, please drop us an email at support@newsprout.com.au and we'll be more than happy to take the time to give you very useful advice :-)
Click here for model pricing & details