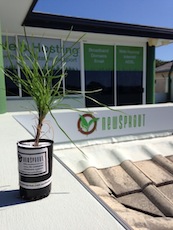 Hello there,
If you are reading this I trust you received your new "sprout" as a gift to you :-)
Just a quick note to say "thank you" for visiting our site and having a look at a local business!
We're celebrating because after over 8 years in business providing world class web hosting and domain name services, we've moved offices in Lennox Head, NSW and now we're also offering ADSL Broadband!
In the internet or web industry, most things are intangible, so I am hoping this small tangible gift (that is also very useful being an Australian native plant – a Dwarf Lomandra) will substantiate NewSprout in your mind as a real living entity that does, in fact, exist – as opposed to being another online mystery hiding behind a big call centre.
Many businesses have the luxury of providing a tangible product. The reason I say "luxury" is because these products can be enhanced a great deal by the internet and all it has to offer…because the internet is a wonderful thing. A tangible product gives an opportunity to "humanise" the customer experience with a real object that we can touch, hold or use! This is a very important thing which is quite difficult to achieve in the Internet Service industry.
So I hope we have been successful…even if it just brought a small smile to your face…that is good enough for us :-)
You can WIN:
We're giving a mystery prize to someone who posts a pic of their planted shrub on Facebook, Twitter or Instagram. Take a photo of your little "sprout" and post it on our page or tag it with our name! Get creative if you like :-) Add a comment…anything! We'll pick a winner if we see it.
NewSprout is looking to "grow", just like your shrub will do if you look after and nurture it, and just as we love to look after and nurture our clients!
Check out our ADSL Broadband offerings on the site and also this free offer if you need web hosting:
>> If you sign-up for any of our hosting packages before the 31st August 2013 we will give you a free domain name FOREVER. Your choice of a .com.au, .net.au, .com, .net, etc.! (if you don't need this, feel free to share it with a friend)
That's right – forever! As long as you keep your hosting with us we'll keep paying for this domain name on your behalf – forever.
Use this coupon in the order form:
>> freesprout (the coupon can be used with a MiniSprout Package, NewSprout Package or SuperSprout Package)
We look forward to helping you with your internet needs,
The NewSprout Team