Joomla! CMS | FCGI, Fastcgi and Suphp Content Management Systems Joomla | Fantastico | New Sprout Hosting

NewSprout Hosting runs FCGI on our servers suited for Joomla! websites, (an alternate and similar option is suPHP). This has numerous benefits from a security and development point of view.
Permissive permissions can be avoided completely. It also avoids many of the associated permissions problems experienced with web hosts not running FCGI, due to the fact, the PHP code can do whatever FTP can do for the user.
Joomla is a free, open-source content management system (CMS), available under GPL license, which will assist you in building websites and other powerful online applications. It is an open-source solution that is freely available to everyone. It can be used to easily manage every aspect of your website, from adding content and images to updating a product catalogue. The basic package is designed to be easy to install, even for non-programmers. Most people have no trouble getting the software up and running, and there is plenty of support for newcomers. It has a growing, active community of 300,000 users and developers on their forums who are ready and willing to help.
Joomla is used all over the world to power everything from simple, personal home pages to complex corporate web applications. Through a simple, browser-based interface, you will easily be able to add new press releases or news items; manage staff pages, job listings and product images; and create a limitless amount of sections or content pages on your website. Once Joomla is installed and running, it is easy to add or edit content, update images and to manage the critical data that is central to your company's or organization's functioning.
Anybody with basic word processing skills and understanding can easily learn to manage a Joomla site.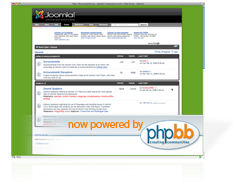 Joomla does an incredible job of managing the content needed to make your website a success. For many, the true advantage of Joomla lies in the application framework that makes it possible for developers around the world to create powerful add-ons and extensions. Examples of such extensions include, inter alia, document management, shopping-carts, calendars, image and multimedia galleries, blogging software, email newsletters and data collection and reporting tools. The powerful application framework makes it easy for developers to create sophisticated add-ons that extend the power of Joomla into virtually limitless directions, thereby catering for the extensive requirements of many companies or organizations.
"The Joomla!® name is used under a limited license from Open Source Matters in the United States and other countries. *NewSprout Hosting* is not affiliated with or endorsed by Open Source Matters or the Joomla! Project."