Fantastico – Drupal Content Management

This is a free and open-source modular Content Management system which allows the system administrator to organize the content, customize the presentation, automate administrative tasks, and manage site visitors and contributors. Although there is a sophisticated programming interface, most tasks can be accomplished with little or no programming.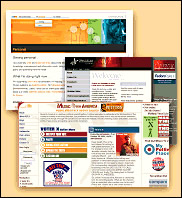 Sometimes Drupal is described as "web application framework" because its capabilities extend from Content Management to enabling a wide range of services and transactions. Its basic layer, or "core", provides essential features in its default configuration.
Drupal is an open-source content management platform, equipped with a powerful blend of features. A variety of websites can be supported by Drupal, ranging from personal blogs to corporate brochures and large community-driven websites. It aims to provide a slim, powerful core that can be readily extended through custom modules.
Drupal modules can override the core's built-in features, extending or even replacing its default behavior without directly manipulating the programmed code in Drupal's core file. This increases flexibility and security. The Drupal core has been designed with a system of hooks, or callbacks, that allow modules to insert functions into the Drupal's path of execution. Custom themes can be added without disturbing Drupal's core. These use standardized formats that can be generated by third party theme design.
Drupal development supports open, collaborative information sharing systems and approaches. It aims for a high standard of usability for developers, administrators, and users. It is open-source and builds on and supports other open-source projects.