E-Commerce – Os Commerce- Web Hosting – Fantastico – New Sprout

 osCommerce is a power-user shopping cart, with a large variety of modules and support of almost every payment gateway. A vast developers community is ready to offer custom solutions depending on your needs. It is an e-commerce and online store management software program that can be used on any web server that has PHP and MySQL installed. It is available as free software under the GNU General Public License.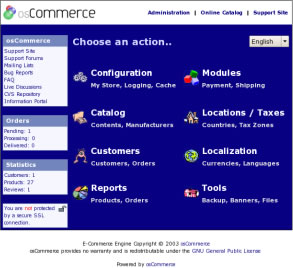 Rather than make a futile attempt to be all things to all people, osCommerce provides a basic set of functionality that meets the common needs of almost all online businesses. By taking this approach, it has avoided the disadvantages which many applications have suffered in the past. This does not render osCommerce "basic" in any way. Its ability to be amplified, through either community-based add-ons or custom mode, means that it can be customized to meet the specific needs of any business.
osCommerce features a rich set of original online shopping cart functionality that allows store owners to set up, run, and maintain their online stores with minimum effort and with no costs, fees or limits involved.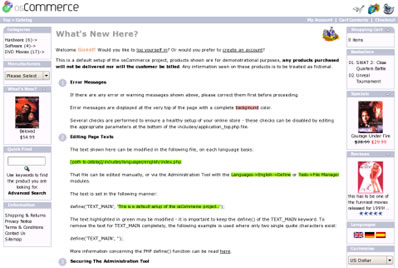 osCommerce is moving towards an e-commerce framework solution that not only remains easy to set up and maintain, but also is made easier for store administrators to present their stores to their customers with their own unique requirements.
The success of osCommerce is secured by a great and active community where members help one another out and participate in development issues.